AvantLogic Corporation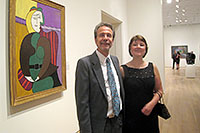 AvantLogic
was founded in 1999 as a software consulting company by the husband and wife team of
George Soules
and
Janice Kenyon
. As often happens, one thing led to another and they eventually
developed a product called
MapsAlive
and later started
George Soules photography
. Today
George and Janice enjoy using their technical and creative skills in all of these related endeavors.
They work from their home on Mount Desert Island in the village of Southwest Harbor, Maine.
Let Us Help You
While AvantLogic is a for-profit corporation, we enjoy working with charitable, educational, and
non-profit organizations. Depending on your need and our availablity, we may be able to help you with a donation of our time or expertise. We offer a 50% discount on MapsAlive to non-profits, schools, colleges, and universities. Some of the organizations AvantLogic has given to appear at the bottom of this page.


AvantLogic has been providing software consulting services for over 25 years. We have consulted for ABC Television, Bombardier, DaimlerChrysler, New York City Transit, IBM, the State of Vermont, and The Art Institute of Chicago, to name a few. Today we focus on safety-critical, high reliability control, communication and information systems for railway applications.
www.avantlogic.com
207-244-8034
George loves photographing people, but the beauty of Maine inspires him to shoot landscapes as well. "My best images balance realism with abstraction to reflect my interpretation of what I saw through the viewfinder. As a technical person, I'm into the gear – cameras, lighting, and post-processing software. I use those tools to create my own vision of a person or a scene."
207-244-8034
MapsAlive allows you to turn ordinary images into clickable interactive maps. MapsAlive is useful for a wide range of businesses, including the real estate industry, travel and tourism, retail, universities and other businesses. You can create interactive geographic maps, interactive floor plans, interactive business graphics, travel maps, interactive diagrams and much more.
207-244-8054
A partial list organizations we have helped: 1% for the Planet • Albany College of Pharmacy and Health Sciences • American Cancer Society • American Heart Association • American Red Cross • Appalachian Mountain Club • Assistance League • Bancroft School • Banja Luka (Bosnia) • Battered Women's Services • Carmel Clay Public Library • Central Fort Bend Chamber Alliance • CCO Missions • Charlton Baptist Church • Community of the Crucified One • Columbia International University • Dunwoody Springs Elementary School • Emerson College • Everyone's Child • Framing the Future • Friends of Acadia • Georgia Health Sciences University • Georgia Wildlife Federation • Greenpeace • Harrison City Public Schools • Heartbeet Lifesharing • Haymarket Cemetery • Health and Medicine Policy Research Group • Highcrest Middle School • Highline Public Schoosl • Indian Hills Camp • Invenio Academy • Kaskaskia College • Kick for Nick • Mad River Localvores • Mad River Path Association • Mad River Valley Ambulance Service • Mad River Valley Community Fund • Mad River Valley Interfaith Council • Madsonian Museum of Industrial Design • Maidstone Grammar School • Maine Seacoast Mission • Maine Island Trail Association • MDI Community Sailing Center • Mother Caroline Academy • Mount Sinai Hospital • New Lisbon School • New West Charter School • Old Spanish Trail Association • Ouelessebougou Alliance • Peconic Land Trust • Philippine Partnership for Development of Human Resources in Rural Areas • Philipstown.info • PPA Charities • Progress Ohio • Queen's Medical Center • Quest Academy • Rare • Riverside County Law Library • Root to the Fruit • Royal Children's Hospital • Saginaw Valley State University • Samford University • South Carolina Baptist Convention • Southern Methodist University • Southern York County School District • Southwest Harbor Public Library • TAPPA • Tennessee College Access and Success Network • Texas A&M University • The Glennie School • The Israel Project • The Master's College for Christ & Scripture • University at Albany SUNY • University of Alberta • University of Chicago • University of Georgia • University of Guelph, Canada • University of Maryland • University of Michigan • University of Utah • Ursinus College • Vermont Cares • Vermont ETV • Vermont Foodbank • Vermont Land Trust • Vermont Public Radio • Victory Compassion Ministries • VNA Health Group • Walla Walla University • Wellesley College • Western Piedmont Community College • Westfield Academy • Yestermorrow Design/Build School